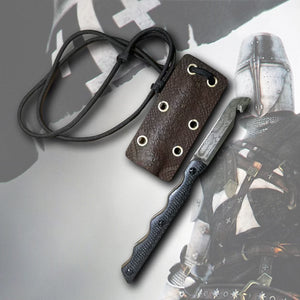 Limited Edition Snake Skin Themed Neck Knife. This Neck Knife is perfect for everyday use and fits great in the hand in every direction.


Blade
Blade is a silver 2.5" Drop Powder D2 with snake skin pattern.

Handle
The handle is Black Canvas Micarta.

Sheath
The Kydex sheath has a snake skin pattern with an adjustable black paracord lanyard.
WHO ARE WE
Who Are We? Templar Knife is a Texas family owned and operated business. We are committed to offering quality automatic knives that best serve our customers. We bring our individual skills to the table creating a well-run machine. Customer service and satisfaction is top on our list. We appreciate and value our customers.

Our Knives Templar strives to produce a knife that is durable and performs well for our customers. We are always looking to improve our products. Because we use outsourcing for our materials, we are able to pass the savings on to our customers. We hand assemble, test and inspect our knives prior to leaving the warehouse for 100% Customer satisfaction. We value our customers and appreciate their business.